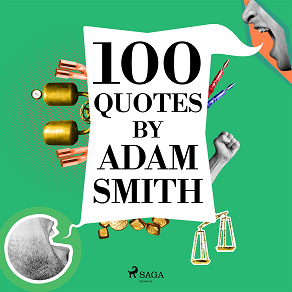 100 Quotes by Adam Smith
'100 Quotes by Adam Smith' is a selection of thoughts and observations from one of the finest philosophical minds of the 18th century.

Smith's views on religion, morality, and human nature are presented front and centre. However, he wasn't short of a few witticisms, and there are plenty of one-liners worth committing to memory.

A superb book for leisurely browsing, this is a welcome addition to any book collection.

Born in Kirkcaldy, Adam Smith (1723 – 1790) became known as one of the most important philosophers and political economists of the 18th century. The son of a solicitor, he was educated at the Burgh School of Kirkaldy, before enrolling at the University of Glasgow to study moral philosophy. Subsequently, he became a student at Oxford.

After leaving, he embarked on a teaching career, eventually becoming a lecturer at Glasgow University. During this time, he published his first work, 'The Theory of Moral Sentiments.' As part of his job, Smith toured Europe with his stepson, Scott. These travels laid the foundations for what is considered to be his most important venture, 'The Wealth of Nations.' This work was adapted for television, starring Gordon Jackson of 'The Professionals' fame.

Listen to sample
---