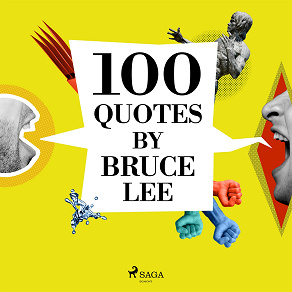 100 Quotes by Bruce Lee
While Lee is best known as a peerless martial artist, '100 Quotes by Bruce Lee' demonstrates an extraordinary intelligence behind the flying fists.

With a deep interest in philosophy and drama, this book contains thoughts and observations that are profound, thoughtful, and often funny.

A superb read for those who want a peek into the mind of the 'Little Dragon,' this book is a must for Lee fans of all ages.

Li Jun Fan (1940 – 1973) is better known as Bruce Lee. Born in San Francisco, but raised in Hong Kong, he was the son of an actor and opera singer. As a result of his father's jobs, the young Lee found himself a regular on film sets.

After being sent to America, Lee graduated in drama from the University of Washington and, shortly after, set up his own martial arts school. After a karate display in Los Angeles, he was offered the role of Kato in the TV series, 'The Green Hornet.'

After finding success on the small screen, Lee went on to write, direct, choreograph, and star in a number of movies, including 'Fists of Fury,' 'Enter the Dragon,' and 'Game of Death.' He is credited with launching the careers of other martial art movie stars, including Chuck Norris and Jackie Chan.
Listen to sample
---