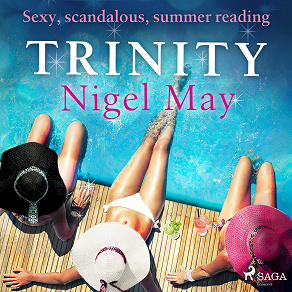 Trinity
'The ultimate guilty pleasure of a rollercoaster read you'll want to repeat the experience of time and time again... His scandalously sexy novels will keep you up all night.' Melanie Blake, Author

When friends become enemies there are no rules...

Ambitious gossip queen Anoushka Silvers is the daughter her abusive father never wanted. Determined to prove herself to her family, she'll stop at nothing to get what she wants. But when her bitchy tongue gains her death threats and the unwanted attention of a stalker, it could be Anoushka who is making the headlines.

For actress Evie Merchant, her childhood dreams of becoming the world's hottest movie star are just about to come true. But a string of hurtful liaisons with lovers out to use her fame, has made Evie uncertain about her future. And with Oscar day looming, Evie's biggest prize of all could be cruelly snatched from her.

A loveless upbringing has made wild child Regan Phoenix search for quick-fix highs from drink, drugs and meaningless sex. But when the opportunity of starring in her own reality show comes along, Regan grabs it with both hands, hoping to put her trashy past behind her.

From fashionable London to stunning Venice and glitzy LA, Trinity takes you into a glamorous and thrilling world you won't want to leave. Perfect for fans of Melanie Blake's Ruthless Women.

What readers are saying about Trinity:
'Sex and scandal abound in this full-throttle thrill-ride through the hidden lives of the mega-rich. Trinity sizzles with bitchery, bling and betrayal, and is the perfect accompaniment to your sun lounger this summer.' Victoria Fox

'Trinity is so much fun. A great summer bonkbuster.' Tasmina Perry

'Such a fun, sexy read – perfect for the beach.' Paul Burston

'Opening Trinity is like biting into a very indulgent, rich, rare chocolate, it's naughty but my word you enjoy every bite. Each chapter serves a delicious helping of glamour, secrets, and intrigue.' Genvieve Ni Reamoinn, TV Presenter and Journalist

'Move over Jackie Collins, there's a new blockbuster star in town.' New! Magazine

What readers are saying about Nigel May:
'An addictive plot that is packed with twists and turns. Prepare for larger than life characters, fabulous locations and plenty of humour.' The Sun

'Packed full of sauciness, darkness and intrigue... If you're looking for a sexy, racy read for your sun lounger this summer, this is the perfect choice.' Heat Magazine

'A sexy, dark, thrilling celebrity whirlwind... It's the most fun you can have between two covers. I need more!' Victoria Fox




Nigel May's titles have sold over 95,000 copies.

Nigel May is a true all-rounder in the media world, working as a TV presenter, author, journalist and craft personality. He has written six glam-fiction books, Trinity, Addicted, Scandalous Lies, Deadly Obsession, Lovers & Liars and his latest is Revenge. Nigel also featured in Sunlounger – a chart-topping anthology of short stories.
Listen to sample
---