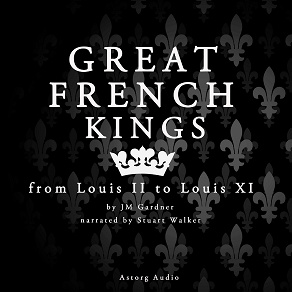 Isbn:
978-28-2110-811-0
Publisher:
Saga Egmont
Category:
History
Accessible since:
June 2022
Narrator:
Stuart Walker
Length: 1 hour 15 minutes
---
Great French Kings: from Louis II to Louis XI
Understand a crucial part of the history of French monarchy, with this collection of portraits of some of the most spectacular rulers of France. This catalog lists the kings named Louis, from Louis II (877-879), a king whose wisdom was greater than his authority, to Louis XI, 'The Universal Spider', whose reign was marked by cunning and conspiracies. For each one of these Kings, you will find a detailed description of the style of his reign and his political achievements. They are, in order: Louis I the Debonaire, Louis II the Stammerer, Louis III, Louis IV from Outremer, Louis V the Lazy, Louis VI the Fat, Louis VII the Young, Louis VIII the Lion, Louis IX the Saint, Louis X the Quarreller, and Louis XI the Cunning.


Listen to sample
---