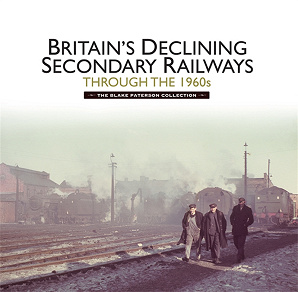 Britain's Declining Secondary Railways through the 1960s
This is an evocative selection of high quality colour views, each of which recaptures the lost age of Britain's branch lines and secondary railways, of which so many were axed following implementation of the 'Beeching Report' during the 1960s.

Most importantly, the previously unpublished views in this book are the work of one man, Blake Paterson, a professional railwayman, who was also an outstanding photographer who some forty-five years ago was determined to record as much of the passing railway scene as possible. He set himself demanding schedules and would often travel vast distances, sometimes using overnight trains, to reach the more remote comers of the rail network.

During this intense period of photographic activity, when he took thousands of colour slides, he followed his own strict rules. He would normally only take a photograph when the sun was shining and he would try to capture the train in its natural setting. For Blake, ambiance was paramount.

This book is a unique record of one man's railway portraits, featuring a wealth of locations, steam and diesel locomotives, DMUs, stations and station buildings, halts, signals, gas lamps, infrastructure, staff and passengers. Anything that was set to vanish, Blake felt should be recorded. His photographs provide a perfect pictorial record of so many of the lost splendours of Britain's rail network.
---