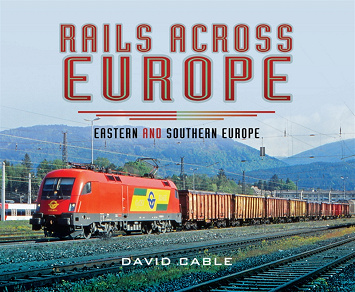 Rails Across Europe
The two volumes covering Rails Across Europe are divided into one covering the North and West of the continent, the other dealing with the South and East.

The photos were taken by David Cable, well-regarded author of several photographic albums of trains throughout the world, supplemented by a few taken by friends.

The books show pictures of modern traction mainly from the 1980s up to the current era, showing the huge variety of classes – locomotives as well as multiple units – and the panoply of colour schemes that continue to grow.

The photos were taken both at railway stations and in the countryside and give a wide range of locations

The first volume covers Scandinavia, the Baltic states, Germany, Poland, the Benelux countries, the United Kingdom and Ireland.

The second volume deals with France, Spain, Portugal, Italy, Switzerland, Austria and the majority of Central European and Balkan countries, which had been in the former Soviet Eastern Block.
---