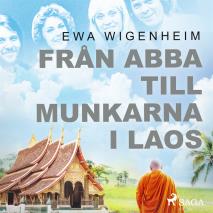 Isbn:
978-87-2644-936-5
Publisher:
Saga Egmont
Category:
Memoirs & Biography
Accessible since:
March 2020
Narrator:
Ewa Wigenheim
Length: 7 hours 12 minutes
---
Från ABBA till munkarna i Laos
Det är Ewa Wigenheim som får idén att bygga ett museum till ABBAs ära. Och det är hon som, efter två år av tjat, äntligen får dem att säga ja. När bandets godkännande är i hamn påbörjas en lång resa för Ewa och hennes man, som under tre års tid äger och utvecklar konceptet ABBA The Museum. Men allt blir inte alltid som man tänkt sig. Efter att ha fått sälja sitt livsverk går Ewa igenom både en depression och en skilsmässa. Hon letar febrilt efter både sig själv och en större mening - ett sätt att hjälpa världen. Det slutar med att hon reser till Laos där hennes arbete med buddhistiska munkar ger ett helt nytt perspektiv på världen.

"Från ABBA till munkarna i Laos" är en inspirerande och personlig berättelse som låter läsaren uppleva livets sanna värden. Dessutom ger den en unik inblick i en tidigare okänd del av pophistorien.

Ewa Wigenheim är en svensk livscoach, entrepenör och föreläsare. Hon är även initiativtagare och grundare av ABBA The Museum.
Listen to sample
---